FrauFrohmann Vielleicht auch mal damit aufhören, Frauen mit Sozialkompetenz gleich mütterlich zu nennen.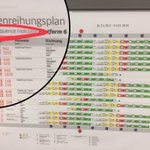 EnglishGibson German has TWO words (that I know of) for this type of sign:

– Wagenreihungsplan;
– Wagenstandsanzeiger.

The English term 'coach sequence indicator' appears to have been coined by Deutsche Bahn. pic.twitter.com/Vee3V8rNPu
"dass wir es heute für akzeptabel halten, wenn täglich Millionen Menschen allein in fünfsitzigen, anderthalb Tonnen schweren, Gift und CO2 ausstoßenden, jährlich tausendfach tötenden Maschinen herumfahren" spon.de/afaKS via @SPIEGELONLINE
@acn128 Was ist denn das für ein Zeitformat? :D
slowtiger Ich gehe mit der Zeit und spiele kein Akkordeon mehr, sondern ein Gleitzeiteon.
CodeWisdom "The best thing about a boolean is even if you are wrong, you are only off by a bit." - Anonymous
luebbermann til: von der newwork-augenhöhe-arbeitswelten4.0-bewegung profitieren meist nur kreativ- und wissensarbeiter. für menschen in einzelhandel, industrie sowie logistik und dienstleistung werden arbeitsbedigungen eher schlechter.
(quelle: spiegel offline nr. 6 seiten 24 und 25).
SoVeryBritish Staying at someone's house:
- Lie in bed for hours waiting to hear signs of life
- Wonder if bathroom is free as you've needed the toilet since 6am
- Finally detect cooking smells and make your way to the kitchen
- Discover everyone went out hours ago
PerlenDL Was ist Onomatopoesie? Das! #PerlenDL pic.twitter.com/0bFr2iaIrS
"Guten Tag, ich möchte bitte 1 Hausrat kaufen."