izs Anyone who complains about arguing over "semantics" has never seen how boring it can be to argue over syntax.
"Das Phänomen Trolling ist sehr, sehr alt" und ich denke jetzt zitiert er Sokrates aber dann spricht er übers Usenet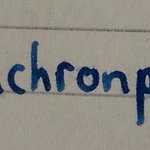 ojahnn beste an Notizbüchern man weiß Jahre später noch was einem 2010 mal wichtig war pic.twitter.com/2yKLj3nXuh
SciBry Research is spending 6 hours reading 35 papers, so you can write one sentence containing 2 references.
JRehborn So sehr ich die Idee, die hinter der DS-GVO steht, unterstütze. Die aktuelle Panik, gerade bei kleineren Organisationen und Vereinen, spricht dafür, dass da so richtig was schief gelaufen ist.