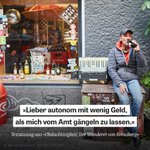 zeitonline Früher führte Raphael Wallner ein Leben voller Exzesse. Nun lebt er auf Berlins Straßen. Der Hunger strukturiert seine Tage, der Stolz zwingt ihn in ein Doppelleben: bit.ly/2GfwBLo pic.twitter.com/uGe3SzYeQx
kurzhaarschnitt Meine Frau reißt die Tür zum Arbeitszimmer auf, brüllt "LIEBÖÖÖÖ!" und geht kichernd wieder.

Nun, Tinnitus und Zittern werden vergehen, aber die Stahlbetonromantik, die ist beständig. <3
ojahnn so I've been travelling with a visually impaired friend, and I highly recommend it. Narrating everything I see to some extent has enriched my experience more than I would have expected.
zeitweise Im Übrigen bin ich dafür, an Artikelüberschriften verpflichtend ihren Wahrheitsgehalt anzuhängen. Also so:
"Älteste Spinne der Welt gestorben (23,9% korrekt)"
laceynwilliams "Ignorance is precious. Never waste it."

When you learn a new thing, take notes on what was confusing and use that knowledge to improve docs, write examples, teach someone else. @catherinedevlin #pycon #PyCon2018
Bitte nicht mehr Backofen sagen, sondern Glühschrank.
leonidobusch Finde ja, dass PGP in Mail-Clients ganz unabhängig von Sicherheitslücken immer schon kaputt war: die Usability ist weder erträglich noch massentauglich. Zeit für einen kompletten Neustart. twitter.com/netzpolitik/st…
emilymbender Attn #NLProc reviewers: If you're going to criticize a paper for being "too narrow" because it works with data from only one language, you better be prepared to level that same criticism when the one language is English (aka the language which usually is not named). #kthxbye
Headphone jack: plug headphones in, sound switches to headphone.
USB-C with adapter: plug headphones into adapter, plug adapter into phone, sound switches to headphone - sometimes. Maybe. With luck.
Innovation \o/
antjeschrupp Ich würde ja die Unterscheidung zwischen "institutionalisierter" Presse und anderen Fotografen in der #dsgvo für verfassungswidrig halten. Der Staat kann nicht entscheiden, wer legitime Presse ist und wer nicht. Das widersprich der Pressefreiheit. Hat dazu schon jmd geschrieben?