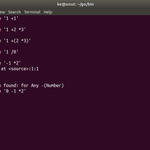 Arithmetik pic.twitter.com/vcd17SxVww
@ojahnn Free exercise for your Python class, thank me later :p
peterbreuer Der Ahorn vor meinem Fenster hat jeden Tag mehr Farben. Wenn er im Laufe der nächsten Woche auch noch Blau und Violett hinbekommt, raste ich komplett aus.
Eilenbrat @iezweipunktnull Hier im Schwäbischen ist der Oplahima (oben Platte, hinten Matte) bei Herren jenseits der 50 sehr beliebt.
fchollet I think you'd see a lot of AI progress happen all of a sudden if you took away all the GPUs 🤔
Treue_u_Ehre So verkauft man Autos! pic.twitter.com/qHLN3Kfiaj
Herr_Rau Listening comprehension in 10 im Schulbuch, Thema Teenager, Familienurlaub, Text überrascht mich angenehm: "no fucking tv, bloody pissed off, fucking birds". Bin das aus Bayern nicht gewohnt.
codinghorror If you haven't donated to the Internet Archive recently, please do. 40 years from now we will look back and finally understand how much would have been irretrievably lost without their work. blog.archive.org/2018/10/01/mor…
emilymbender Asking because in co-authoring with students, I find that's the part where they rely on me the most. I'm trying to figure out if it's just easier to write that kind of stuff with longer experience / a broader perspective on the field, or if there's something I could be teaching.
TensorFlow Swift for TensorFlow is now open source!

It is a new programming model for machine learning combining the performance of graphs and the expressivity of Eager execution, with first-class autodiff built right into the compiler

Learn more on the TF blog ↓ goo.gl/BWvgL2