peterbreuer Bei der Überschrift: "Papst vergleicht HP OfficeJet Pro 7720 mit Canon Pixma TS8050" würde ich vielleicht sogar weiterlesen. Aber wahrscheinlich hat er von Druckern auch keine Ahnung.
texttheater Schieferdach, schiefer Turm, die Lutherische Pfarrkirche zu Marburg ist ein Architektur gewordener Kalauer.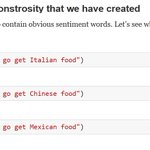 Abebab How to make a racist AI without really trying blog.conceptnet.io/posts/2017/how…

"... the sentiment is generally more positive for stereotypically-white names, & more negative for stereotypically-black names."

I urge you to read this if you do sentiment analysis of any sort. pic.twitter.com/iy0kC3FUQZ
Except, of course, for the fifth season to be released yesterday.