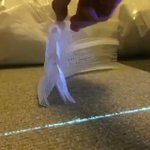 rveenewman A 3D printed light projected animation. Proof that there's always new ways to animate everything. #3dprint #animation pic.twitter.com/ULFTf8gIto
Steampunk-Hackerstory, in der man für automatisierte Berechnungen nicht "Compute" braucht, sondern "Uhrwerk". Bsp.: "Um den Code zu knacken, brauchen wir mehr Uhrwerk."; "In Sachen Uhrwerk können wir es nicht mit ihnen aufnehmen, aber wir haben den smarteren Algorithmus."
tiger_food Gute Gelegenheit, mal wieder zu üben, dass es "aufs" (und nicht "auf's") und "Schärfste" (und nicht "schärfste") heißt. #Dings
@Autorwesen Gibt's die öffentlich? Wenn ja, wo? Wenn nein, darf ich lesen? :D
@adimit FWIW both are instances of laminar flow.
ZonePhysics When water flows so smoothly it looks solid. This effect is called Laminar flow pic.twitter.com/2QtUYcQcxb
in vivo - in vitro - in silico - ex cathedra