Oh, es ist ja noch heute.
meltomene I booked a seat in the quiet zone of this ICE train and the conductor just openly reprimanded a woman loudly talking on the phone. This might be the highlight of my entire trip.
Einmal hat mir ein Luxemburger Luxemburg gezeigt (am Vormittag die Stadt und am Nachmittag den Rest des Landes).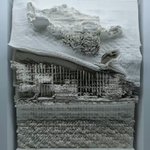 refikanadol Dear friends, we are deeply exploring photographic memories with machine intelligence. We are constantly training a GAN algorithm with hand picked ~2 millilons architecture photography datasets to create new machine hallucination data sculptures. pic.twitter.com/1buO3SSF8M
"Eine Amtsführung hat auch geschlechtsneutrale Komponenten."

"Für einen Mann ist es überhaupt kein Problem, hundert Tage hintereinander einen dunkelblauen Anzug zu tragen, aber trage ich innerhalb von zwei Wochen viermal den gleichen Blazer, dann erzeugt das Bürgerpost."

<3 twitter.com/zeitonline/sta…
kathrinpassig @annanasskeks Wenn ich an die Playlistvergleichsoptionen von last.fm zurückdenke, würde das zu sehr vielen ersten Dates führen, bei denen der Mainstream vom Mainstream vom Mainstream läuft. Aber das ist 15 Jahre her, und vielleicht ist der Mainstream ja seitdem ausgestorben.
GoodGermanWords #Debating with #Germans
---
#Einräumen - "Tidy away" = Concede
#Auspacken - "Unpack" = Tell secrets
#Wegstecken - "Put away" = Take hit
#Zugeben - "Give to" = Admit
#Austeilen - "Hand out" = Attack

Less like talking, more like moving home.

#GoodGermanWords
#Good #German #Words pic.twitter.com/WBY4LJtm3r
annanasskeks Idee:

Dating App, die die Musikbibliotheken von beiden durchsucht, eine Playlist aus den Gemeinsamkeiten macht und beim ersten Date spielt.
Das Date darf nur so lange dauern wie die Playlist.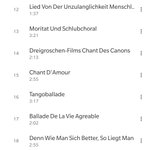 ojahnn The tagging of some of these Threepenny Opera recordings on google music sucks bassatles. #schlubchoral #wiemansichbettersoliegtman #zuhälterbassatle #kanonsong #ertesfinale #eiferuschstduett #balladevonangenehmen #leben pic.twitter.com/FtfDRz8YfZ
Tired: vegetable, animal, or mineral?
Wired: organization, location, facility, or artifact?
"Lasst den Menschen doch ihre Hölle!" (Papst Knut I.)