ARDMoskau Ein Adler mit Transponder sollte sibirischen Ornithologen Flugdaten übermitteln. Plötzlich kamen hunderte SMS, die jeweils 50 RUB statt 2-15 RUB kosteten. Das Tier ist in den Iran geflogen. Die Ornitholgen bitten um Spenden, um die Kosten auszugleichen.

meduza.io/shapito/2019/1… pic.twitter.com/OfH4D1qXWK
emilymbender Does anyone among my Twitter circle know how to format R->L strings (Arabic, Urdu and Farsi, in this case) in a predominantly L->R latex document? Details follow:
Kurfuerstin Eine meiner liebsten Erinnerungen an meine Theaterzeit ist, wie ich mit nem riesigen Schwert in der Hand auf dem Fahrrad von der Waffenkammer zur Probebühne gefahren bin. #Theater
ojahnn Went to a #codetalks session about Clojure, hoping to learn something new. So far, I've had some soothing Clojure coded at me. Perfect way to spend the second afternoon of the conference. Better than meditation.
Zu den organisatorischen Abläufen in unserem Personaldezernat gehört es anscheinend, auf jeden Dienstreiseantrag erst mal das aktuelle Vertragsenddatum neben den Namen zu schreiben. Rub it in, I guess? #AkademischesPrekariat
Kann es gar nicht erwarten, bis auf Twitter alle wieder ihre normalen Namen haben
eine unfassbare Scheibe lasern
Tipp: Statt Mails mit TLS verschlüsselt zu versenden einfach CONFIDENTIAL in den Betreff schreiben spart Zeit und Aufwand 😊👍💯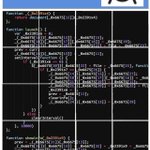 jzy Captcha is getting ridiculous. pic.twitter.com/DufDYmm3a6