The proof of the pudding is in the eating, so why would you pud if you're not gonna eat."
yes yes cillian murphy is one of my favorite kilians
@wellformedness I thought that was…

(•_•)
( •_•)>⌐■-■
(⌐■_■)

…accepted terminology.
ATBrokenNews Erneut illegale Teigtaschenfabrik in Hürden entdeckt
"Ja, dann sag das doch vorher!" Imperativ Perfekt. Challenging.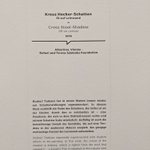 Wenn ich den Lichtschalter betätige, ist das dann auch eine aNsPIeLuNg auf die Tendenz moderner Gesellschaften, Räume künstlich zu beleuchten? pic.twitter.com/Jh6APMnqZ7
Grumpfdalm Weck mich ein when September ends pic.twitter.com/8NaRILIlXC
Wort des Tages: Renommierlyrik
hllizi "If a machine like GPT-2 could have enough data and computing power to perfectly predict the next word, that would be the equivalent of understanding."

newyorker.com/magazine/2019/…

No. That would be the equivalent of telepathy.
literalbanana the existence of the magnificent four-and-a-half-hour fan theory of twin peaks makes me unironically excited about the future of art and few things do that these days youtu.be/7AYnF5hOhuM
GabrielBerlin Oh Mann Leute ich hab's: U-Bahn-Sharing! Elektrisch, extrem umweltschonend, baut auf bestehender Infrastruktur auf, underground (!!) wie geil ist es bitte