texttheater "Hört mal, ihr seid wohl vom patscherten Jakob umschlurft!"
texttheater Hört mal, ihr seid wohl vom dicken Grafen umfläzt!
Dunkelmagier wenn meine tweets komplett kleingeschrieben sind heißt das dass der nagellack trocknet
wayfu should i try to get hired by Ableton explicitly to find out who is responsible for their Indexer and subsequently get fired for screaming at that person on my first day
durst Ich werd' einfach NIE den Typen vergessen, der bei Subway ganz casual die Brotsorte "mit Oreganéo" bestellt hat. Das war 2007 oder so.
bastians Eben mal wieder erfolgreich das Handyticket im Bus gescannt (Erfolgsquote 50%) und er Busfahrer meinte nur: "Jedzd kriega Se a Bombole zugschickd." 😂
_tabracadabra Last night the security guard at the stables exit said "have you just been in THERE? I want to know more"

Which I think proves the @vagina_museum has taken over officially taken over as coolest place in Camden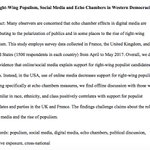 robkhenderson "Overall, we do not find evidence that social media explains support for right-wing populism. In the USA, use of online media decreases support for right-wing populism..Surprisingly, the locus of populist echo chamber effects is people's offline networks"

academic.macewan.ca/bouliannes/fil… pic.twitter.com/bmIuS1HBBp
labenzticker Dänischmüssen, das: Variante der Amöbenruhr, bei der als alleinige Therapiemetode drei Jahre alter Stockfisch dient, der immer zur gleichen Uhrzeit am 12. November in einem Fjord bei Norre Vorupor gefangen und getrocknet werden muss, um seine schrecklich… labenz.neutsch.org/D%C3%A4nischm%…
Morgens in Wedding einen Kaffee trinken und abends in Schalke ein Bier
Blöde Bluetooth-Kopfhörer, die im Dunkeln die ganze Bude zusammenblinken
*packt Geschenk aus, es ist eine Stratocaster* Ah, eine Stradivari!
Wort des Tages: Pröfffaktor
the main drivers of inertia
zirkuspony münchner im club erkennt man am obenen arm