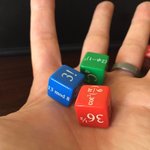 standupmaths Fantastic. These dice will cause a lot of arguments! Made by Eric Harshbarger. ericharshbarger.org/dice/ pic.twitter.com/VaqifxVQL5
Klarheit umperle meinen Geist!
Wort des Tages: Entwachsenenspielzeug
JessicaTripler Usual LeGuin said it better than I ever could. Listen: your lit fic full of pain pain pain is often banal, cliched: pic.twitter.com/kuHYJjTkxs
astefanowitsch Was sagt ein Zoobesucher mit diplomatischer Immunität?

"Sah Tiere, darf alles."
oOtrinityOo Das Wetter ist heute so schön, ich hab mir bei GTA direkt ein Cabrio geklaut.