geektech87 'Pop Shell' Wants to Bring Proper Tiling Window Features to GNOME Shell tox87.altervista.org/?p=198 pic.twitter.com/uuzfF4z4vh
DiageoLiam The World Health Organization has announced that dogs cannot contract Covid-19. Dogs previously held in quarantine can now be released. To be clear, WHO let the dogs out.
alqaeda 2011 TSA Pre-Check

"We'll relax security for anyone who can pay an $85 fee, because rich people don't blow up aircraft."

2020 Europe Travel Ban

"Our ban only applies to foreigners, because Americans can't catch coronavirus."
NatalieGrams Gespräch in Wien: ,Ja, wissens, ich glaub eh nicht an die Homöopathie, aber meine Ärztin, die ist auch Homöopathin, und ihr geht's besser, wenn ich die Globuli nehm.'
derwahremawa Kastenhalslaute, aber als Geräusche zornigen Überraschtseins
davidschlangen The somewhat paradoxical consequence of all this is that suddenly the next weeks are chock-full of events that I had decided against (too much travel) and now could take part in, because they've gone virtual.
ArneKoehn Our group at @Saar_Uni works completely from home and we stay connected via text & video chat.

It occurred to me today that you all are now as near to me as everyone in my group, so if you want to chat e.g. about your or my work in #NLProc, get in touch (metaphorically)!
publictorsten Eine der unnötigsten Verschwörungstheorien ist ja: Wann immer Gelächter im Fernsehen zu hören ist, ist es künstlich. Wie wichtig jedoch ein tatsächlich lachendes Publikum ist, merkt man nun, wenn die Late Night Shows ohne Publikum aufgezeichnet werden. youtube.com/watch?v=Oq-06i…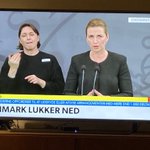 rasmuselling Historic moment. "#Denmark shutting down" as Danish PM announces complete shutdown of education system, childcare, public offices etc. pic.twitter.com/f7sbuzmMY5