Arne_Voss @elisab_at @HHU_de Es ist wirklich keine kleine Fläche... Meine spontanen Ideen:

- Hippodrom
- Quidditch Feld
- natürlich auch ein Japanischer Garten
- (Wasser)rutschen zwischen den Gebäuden pic.twitter.com/NRlThXIBfZ
NomeDaBarbarian Because I'm in a weird mood,

Animals, as described by English translations of their scientific names. 🧵
NomeDaBarbarian Blue diver

(It turns out "Columba" means Dive, which means that we should all be pronouncing Dove like it's past tense) pic.twitter.com/rXnHXU4eVA
TaliesinEvitel So to summarise. There are now two blue checkmarks. One always tells the truth. One always lies. One leads the way to the castle. One will send you to the bog of eternal stench
CW: Reference management software

Been using #MendeleyDesktop since 2009. Now that it's been discontinued and replaced by #MendeleyReferenceManager, which doesn't work for me on Ubuntu, I'm finally switching to #Zotero. My library apparently contains 76232 papers. (I don't (1/2)
ScHuehnerkrisp Capri-Sonne wird in Capri selbst übrigens Frankfurter Sonne genannt
Grumpfdalm Nonbinary things: Gespannt sein, welches binäre Geschlecht einem die GKV, bKV, Geschäftsreisenportal und auch sonst alle morgen zulosen.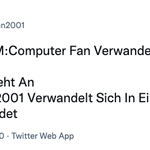 abue_io also: falls du computerfan bist oder einen kontakt zum user hast oder sonstwie irgendetwas zu sagen: please respond! pic.twitter.com/ccJtwGerZn
abue_io all das habe ich in erster linie für den account @computerfan2001 gemacht, der sich am 1.11. gelöscht hat. computerfan2001 war für mich der spannendsten poetische account auf social media und ich bin noch immer geschockt, dass es ihn nicht mehr gibt. twitter.com/abue_io/status…
zeitweise Next Step: den Knopf monetarisieren, der anzeigt, ob der blaue Haken bei einer Person bedeutet, dass sie wirklich die Person ist, die sie vorgibt zu sein, dass sie 8 $ bezahlt hat oder dass es sich um einen temporären Anzeigefehler handelt.
gchrupala Medieval scholars often funded their scientific interests under false pretenses which appealed to the ruling elites: Al-Tūsi convinced his patron Hülegü to construct an astronomical observatory by promising more accurate horoscopes.
What are the astrological pretexts of today?
Jeder Quatsch braucht ein Großmaul, das ihn in der Pose des Wissensen verkündet.