AliceDreger Me: How do you avoid a head injury?
The kid: Don't let my mother catch me on a scooter without a helmet.
Me: Exactly.
"n'est que" vs. "n'est pas que". Aargh.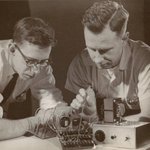 hmason Last night we built a perceptron in hardware as a tribute to Rosenblatt's Original (video): youtube.com/watch?v=evVSV4… pic.twitter.com/uA27hAbO0Z
Next: Kein Gerichtsverfahren mehr für Strafverdächtige in Fallgruppen, wo die Freispruchquote zu niedrig liegt. twitter.com/holgernohr/sta…
Wort des Tages: entgleistert
bov Darf der Reim denn wirklich alles?
bov Jeden Morgen frage ich mich, ob Bibi und Tina wirklich deshalb "geschwind" reiten, "weil sie Freunde sind".
Wort des Tages: Vanilloquium
peterbreuer Gasfeuerzeug nachgefüllt. Bisschen was danebengegangen, aber wie klein die Lichter der Stadt von hier oben sind.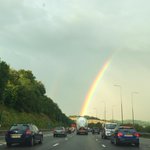 danielmaier On the M25, following this leaking rainbow transporter. pic.twitter.com/CM69zoU6A4