@ojahnn Das neue funktioniert nicht immer, aber insgesamt bin ich zufriedener damit als mit dem alten.
Schplock Finde es ziemlich assi von web.de, mich mit "Guten Abend" zu begrüßen. Bei mir ist noch Nachmittag, ich wünsche, dass das respektiert wird!
marga_owski Meine Bank schreibt Mails mit Betreff "Das machen wir mit Ihrem Geld" ohne ein einziges Gif von tanzenden Bankern in rosa Pudelkostümen :/
j_kloiber Ich mach jetzt übrigens Startup-Consulting. Hab eben jemanden im Oberholz Prozentrechnung beigebracht und mir nen Kaffee verdient. Läuft.
frachtschaden Zwanzig Minuten länger am Check-in stehen, weil man einen Umlaut im Nachnamen hat. Bei der nächsten Gelegenheit ändere ich ihn in Zrkxqqq.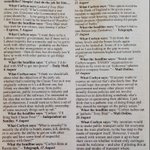 Ian_Fraser How the media distorts everything Jeremy Corbyn says. via @PrivateEyeNews @jpublik pic.twitter.com/VQLy1aa5P6
Something mews in the mews.