pfpicardi A few things re: this kinda talk. pic.twitter.com/aUC6huQQGF
Smollsassysloth Trying to describe the weather in German: "Es ist kauß baußen und ich trecke es nicht". End your sentence with genau to make it sound legit.
@asayeed Oder wenn etwas auf vielfältige Weise unflätig ist.
Wort des Tages: vielflätig
Die Gehhilfe des Zauberers
ojahnn "Wann fangen wir an, uns küchentlich zu betätigen?"
personaldebatte Sohn (3) fährt hoch, reißt die Augen auf: "DAS IST LÄNDERSACHE?"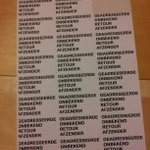 texttheater *cracks knuckles* pic.twitter.com/728k3bKCsV