hdsjulian Mit Abholkarte aber ohne Perso bei der Post.
Lösung: Typen hinter mir (mit Perso) "Vollmacht" ausgestellt, Paket abholen lassen. :D
konsulampulle Meine Lieblingsszene war die mit den 16 Euro Wechselgeld in Form von TAUSEND auf den Boden prasselnden 20-Cent-Stücken.
ojahnn TIL: In the sentence "Mary won gold and Peter bronze", the word "bronze" is in an orphan relationship with the word Peter as a parent.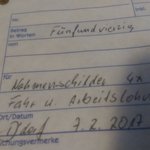 ojahnn ach da bist du pic.twitter.com/ZFjr7DEC4J
texttheater $ python3 -m unittest
FFFFF..FF...
UUUUUUUUUUUUUUUUUUUUUUUUUUUUUUUUUUUUU
Englisch.™ Die germanische Sprache mit den feuchten Konsonanten.