vieuxrenard Das Mimimi der #AfD Gurkentruppe ist wirklich ein Fest ... mir scheint, dass konsequentes Ausgrenzen der Rechtsradikalen und konsequente Ablehnung ihrer Thesen der einzige Weg ist, diesem Irrsinn beizukommen. twitter.com/sophiepassmann…
@kweenys Wenn ich das richtig verstehe, werden die Uploadfilter nicht vorgeschrieben, aber zur praktischen Notwendigkeit für Plattformen, um Haftungsansprüchen zu entgehen. Der erforderliche Recall ergibt sich also aus Kosten/Nutzen-Abwägungen.
kevinkempke Idee für einen Campusroman: Konservativer Literaturwissenschaftler, der nur zu toten Autor*innen arbeitet, lädt seinen Lieblingsautor zu einer Poetikvorlesung an seine Uni ein, um ihn zu ermorden und endlich mit der Forschung beginnen zu können.
*muss seine zerfallene Käsestulle erst mal parsen*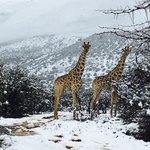 Zett Kaltfront in #Südafrika liefert magische Bilder von Giraffen und Elefanten im Schnee: ze.tt/kaltfront-in-s… pic.twitter.com/ZFjd5ivNOI
existentialcoms Never forget that CEOs who brag about how many hours they work come home to personal chefs, maids, drivers, and landscapers.

Housework is work. They don't count it for you, and they don't do it themselves.
jplur_ The recursive centaur: half horse, half recursive centaur pic.twitter.com/fG6yToSmlf