"Willkommen in Terra Incognita."

Im Kino am Jetzt pic.twitter.com/Wdc9T7Hkh1
frachtschaden *glatscht* pic.twitter.com/6oJPx7Hm49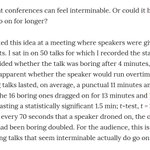 michaelhoffman This is amazing. "Do boring speakers really talk for longer?" Nature (2018) 561:464. nature.com/articles/d4158… pic.twitter.com/RORRFUVxsN
economeager Part of the inspiration for this policy was @jhaushofer and others who care enough to make failure visible so that everyone can thrive in our profession without toxic notions of perfection dragging us all down
economeager My promise to you: I will never announce a forthcoming/accepted paper without also announcing all the places the paper was rejected.
benni_b Was ja bei dem öko-Konsum-Thema immer ignoriert wird: um sich den teuren Kram leisten zu können müssen die Leute mehr arbeiten, was fast immer auch der Umwelt schadet.