US-amerikanische Flüssigunze pic.twitter.com/dOzsuhQLvZ
texttheater "Vielleicht sticht uns morgen ja der Hafer." - "Vielleicht trifft der Hafer ja auch ne Auswahl, wen er sticht."
wellformedness "special Portuguese party": compositional (intersectional reading?) can invite Gramma.
"Portuguese Special Party": idiom (but what does it denote?), don't tell your family you're going. twitter.com/70s_party/stat…
plomlompom Warum nochmal brauchen wir Staatsoberhaeupter in der Innenstadt?
"Wir leben so strukturiert, damit wir uns auf die Arbeit konzentrieren können. Wir müssen, wenn wir im Atelier sind, vor einer öden Wüstenlandschaft stehen. Praktisch ausdgedrückt: Die Post muss beantwortet, das Studio sauber, die Rechnungen bezahlt sein" (Gilbert and George)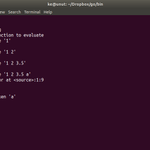 Prototyp-Interpreter kann schon voll viel: die letzte in einer Reihe von Zahlen zurückgeben. #wip #sneakpeek #staytuned pic.twitter.com/CpsbfYdYL4
mattyglesias Lindsey Graham's argument that the fact that a person is successful and powerful proves he didn't do bad things in the past is really conservatism boiled down to its essence.
tiger_food Immerhin erkennt #DeepL Portugiesisch als Italienisch und liefert i. Ggs. zu GT einen vollständigen Satz ab: "Um der Wahrheit willen möchte ich dieses Zertifikat bestehen, das Sie mit der in diesem Wintergarten verwendeten Herde geben, nehmen und authentisch werden lassen."
"It's not essential. It's the cherry on top. Actually it's more like sprinkles on the chocolate coating of the cherry on top."