markus_schlegel Mit welchem Zug fahren Schimpansen? Antwort: mit dem Schimpansen*

* Aussprechen wie Shinkansen, damit der Jokus seine volle Wirkung entfalten kann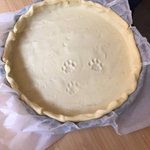 urfriendimane the crime the criminal pic.twitter.com/z991TPePVV
ewolff Before the daily news show @tagesschau, there is a clock. Nowadays, it's about 30 seconds off in the live stream. I remember when we adjusted our watches to that clock....
Fahrgast: Ein... äh... Spa rood...?
Bordbistro-Mitarbeiterin: ???
Ich: *slidet spontandolmetschend in das Verkaufsgespräch*
houellebeck Ne GbR könnt Ihr übrigens ganz fix gründen - quasi noch im Hausflur vor Eurer "Gesellschafterversammlung", die terminhalber im beliebigen Homeoffice zu Ostern stattfindet... 🤫😏 twitter.com/presseschauer/…
peterdhintz Die Corona Warn App fühlt sich nur noch an wie StudiVZ.
falkoloeffler Ich, 47 Jahre, examinierter Medienwissenschaftler, schaue in eine Serie rein.

Eine monotone Erzählstimme kommentiert, was man sieht.

Ich denke: wow, wie mutig sie die Erzählung direkt dekonstruieren.

Merke nach 2 Min: Tonspur ist auf "Audiodeskription" gestellt.