SoVeryBritish Knowing someone is a true friend when they keep a specific sauce/condiment just for your visits
oOtrinityOo Gibt es einen Tanz, der Holterdiepolter heißt? Also den könnte ich.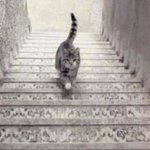 janmpdx Having vacated the stupid box, Schrödinger's cat went up/down the stairs. pic.twitter.com/CDw6ekzY6R
"Das gab's zu unserer Zeit nicht, dass auf Eigenschaften unserer Studienfächer abgehoben wurde in Witzen."
"Definiere Freiburg!" - "Wenn wir abends noch Bier brauchen, gehen wir zum Al Natura."