"Mach dich mal einer größeren Gechilltheit teilhaftig."
Handschriftlich gerät 口 leicht zu 12 und 冖 zu √ ̅ ̅.
ojahnn "Ich muss ein ernstes Wörtchen mit dir reden!" - "Oh, welches denn?"
"Pro Person nimmt man ein Ei." - "ISCH BIN ZWEI PERSONEN."
Die, die Google Glass hassen, sind bestimmt dieselben, die sich darüber aufregen, dass alle ständig auf ihre Handys starren.
"Einen Zentner Leichtigkeit, bitte."
plomlompom Wenn sich die Öffnung der EU für mehr Flüchtlinge demokratisch nicht vermitteln lässt, dann ist die Demokratie halt keine Lösung.
@Lanketrrgrr Davon muss ich ausgehen, frage mich aber noch, ob der Tanz innerhalb oder außerhalb des Larp stattfindet.
arianitd NY Times Editorial: The French Surveillance State nyti.ms/1C1zyoX Terrorists' dream being accomplished by French gov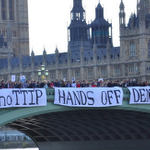 15MBcn_int London, Barcelona, Berlin or Brussels send a message to Govts and Corporations, EU is about its citizens #StopTTIP pic.twitter.com/HFYwDbUn5P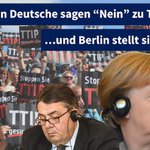 Volksentscheid Massenproteste gg. #TTIP, #CETA & #TiSA: tagesschau.de/multimedia/vid… 1 Million @eci_ttip-Unterschriften in Deutschland! pic.twitter.com/UegoEr25VI
stporombka Charlottenburger Ausflugswappen pic.twitter.com/Rcp4nojyRU
personaldebatte "Sie sind doch der berühmte Schauspieler Senta Berger!"
"Ich werde oft mit ihm verwexelt."
"Haben Sie…"
"Ja. Das war ein X."
TheToddWilliams Kid: WAAAHH! MY TOY IS BROKEN!!

Dad: Nothing a little duct tape won't fix...

Kid: mfflr..frrrr..strnnn