frachtschaden Wo auch sonst? pic.twitter.com/8lmR4hlQ5G
SoVeryBritish "The reason I'm calling is that I'm just getting in touch because I was wondering if..."
Lotterleben Arranging a meeting with another nerdette:
"I'll be the one with the purple hair."
"Me too!"
:D @etiene_d
@ojahnn Nur zum Umsteigen diesmal. :(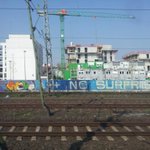 +++ NO SURPRISING NEWS +++ Awesome piece of graffiti art in Düsseldorf pic.twitter.com/0hXC2kq5Bd
halfbyte Die Überschrift "Wirtschaft klagt über Bachelor-Studenten" macht mich wirklich wütend. Ihr erntet was ihr gesät habt, ihr Arschkrampen.
houellebeck Industrie- und Handelskammertag oder "Wenn der Bachelor keine Rose bekommt."
Gibst du dem Todesser Todesserum, bringt Todesserum den Todesser um.