frachtschaden Mich beschleicht das Gefühl, das wird gar keine Monstertruck-Show. pic.twitter.com/n5JFZV82oZ
"If you don't stop with the coarse language, I'll give you a good beeping."
@ojahnn Dass die das cl nennen, was für Clowns! m( Auf den großen Distros heißt das s.w.i.w. python3.
SoVeryBritish "I'll see how I feel" - Translation: You've more chance of seeing a flying giraffe than you have of seeing me later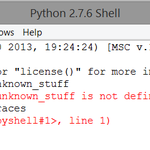 ojahnn Wow okay no need to be so aggro about it pic.twitter.com/8Jwha6UCkw
YorkshireLiff Bagby (n.) The phantom shoulder bag that causes a brief moment of panic, before realising you didn't come out with it in the first place.
frachtschaden Nach meinem Tod möchte ich mal eingefroren und über's Essen geraspelt werden.
Lotterleben Ooooh how cool, #jsunconf has Mood Bands! I wish more events had those :> /via @fresskoma pic.twitter.com/FBBQ31nG4c