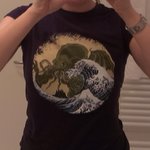 wellendonner It arrived! pic.twitter.com/YWS7XwwXdV
climagic em8ball(){ a=$( printf "%x\n" $(($RANDOM%368+9728)) );printf "\u$a ";random -e 2 && $FUNCNAME||echo; } # emojic8ball how will I die? #xkcd
@nodrama_de Könnte die Sprechenden allerdings in den Verdacht bringen, Sockenpuppen zu sein.
milch_honig .@senior_sim Du, wir können uns gerne mal auf einen Kaffee treffen und dann beantworte ich dir alle Fragen. Hier lese ich alles rhetorisch.
textgruen From clay to claim: From hand prints on rock to handheld touchscreen. A history of human selfies from pre-history to post-privacy. #wasfehlt
the_maki Brückentagssoll erfüllt (erfolgreich 1 beobachtete Bachstelze ergoogelt), alles andere ist Bonustrack.
"Welcome to Social Awkwardness Club. Please, make yourself uncomfortable."
ZachWeiner The basic idea of women's clothes: take men's clothing, lower the quality, increase the price, make it uncomfortable and remove all pockets.