Lotterleben Freitagabend. Muckibude und dann Bier im leeren Büro. I KNOW HOW TO PARTAY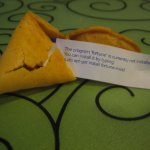 climagic They started using Linux at the fortune cookie factory because they heard they could save a fortune. pic.twitter.com/Pi4Z6ykzg0
"dass er mich innig unbedingt von seinen Dienern küssen lassen will" – grammatisch oder nicht?
SoVeryBritish Describing a small piece of concrete next to some bins and a kitchen extractor fan as a "beer garden"
the_maki Ist schon Zeit für eine lukrative konsumnostalgische Bubble-Tea-Renaissance? ("Wieder da: DER Kultglibber aus den frühen Zehnies!")
lllena love dit pic.twitter.com/Ws3C4KS5Rk
SibylleHasse Blickkontakt. BLICKKONTAKT. "Augenkontakt" klingt immer, als würden sich Augäpfel berühren. Auch, wenn es sich ähnlich bäh anfühlt: Nein.
nsaphra A "good" cognitive model *should* generate visuals like those the human brain generates to fill in visual gaps.
nsaphra The fact that everyone recognizes those DNN-painted pics as "trippy" is neat evidence for cognitive plausibility in current vision models.