Maori Wenn Gott nicht gewollt hätte, dass es Atheisten gibt, würde er existieren.
DeanAbbott Generalization are, by nature, only generally true, one exception doesn't falsify them. Never argue with people who don't understand this.
@spinfocl Vor allem, wenn sie dann anfingen, sich zu küssen.
"Das ist die mit den vielen Ausrufezeichen." - "Ah!"
abnor_malik There are 2 people hiding inside of me! @TheDoubleRClub
Original photo… instagram.com/p/BA6tdstA3Fs/
Chaosfux Ich liege auf dem Sofa und meine Mutter hat eine Decke über mich gelegt so wie man Decken über Sachen legt, die der Besuch nicht sehen soll.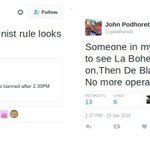 pourmecoffee Imagine making a pure public safety decision based on advice of first responders and these thought leaders chime in pic.twitter.com/r4PeUi3Onn