zehavoc Guys, I'm looking for candidates for two postdoc position starting in March 2017 at the INRIA Paris (Salaries 2350 €/net) #COLING2016 1/2
dennisformann_d hinweis an alle eltern, die #weihnachten verplanen: der 1. weihnachtstag ist dafür da, im schlafanzug mit dem neuen spielzeug zu spielen.
jayspectech The answer to, "What idiot did this!?" is almost always, "A smart, well-intentioned person making tradeoffs you hadn't even considered."
SPIEGELCaptions Der nächste Schritt Biomechanik des Laufens: Rundum aufgehübscht
SoVeryBritish Places for the mini jog:
- zebra crossing
- petrol station forecourt
- corridor of held doors
- after tripping over nothing
astefanowitsch Wenn der Surrealismus wiederkehrt, wird er nicht sagen, "Ich bin der Surrealismus." Nein, er wird sagen, "Hashtag Fisch."
Most poster presentations are just the extreme version of a talk with crammed slides, making it impossible to take in either.
Wort des Tages: Synchronblitzanlage
selenalarson This holiday season, give your loved one the gift of knowledge about privacy and security and how they can protect their data online.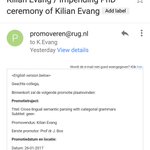 My PhD ceremony is "impending". I love this choice of words. pic.twitter.com/lhZGyHK7Zi