kathrinpassig Als Weihnachtsgeschenk für alle vergesslichen Teekocher die Information, dass es Schwarzteesorten gibt, die nicht bitter werden. Nur kalt.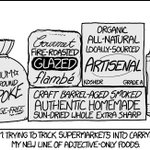 xkcdComic Adjective Foods xkcd.com/1774/ m.xkcd.com/1774/ pic.twitter.com/gf0NVJdjVV
arabellesicardi me: you're really pretty.
her: thanks!
me: [internally yells] I MEANT THAT IN A GAY WAY
Man sollte seine Freunde auch mal zu einem AUFHEBENS einladen oder zu einem GEBURTSTAGSGEHOPSE.
"Hört mal, ihr seid wohl vom patscherten Jakob umschlurft!"
SeraphinaMadsen From Stanislaw Lem's "Return from the Stars" published in 1961 pic.twitter.com/B66PHF09Zs
Nachtvogel Tutti heißt bei einer Orgel nicht "tutti", sondern "organum plenum".
plomlompom Habt ihr auch eine Liste schlechter Witze, für deren Machbarkeit ihr noch aufs Eintreten des Anlasses (prominenter Tod, o.ä.) warten müsst?