katjaberlin "oh, also bei dieser gesellschaftspolitischen diskussion würde mich jetzt noch die meinung alexander dobrindts interessieren." (niemand jemals)
@Vilinthril Er hat versucht, den Brief da rein zu stopfen, aber der Schlitz hat nicht mitgemacht.
frachtschaden Witzig, wie kontroverse Zitate im Kontext aussehen. pic.twitter.com/TfKC9yITG5
Heute fand ich im Briefkasten einen zerrissenen Umschlag und eine halbe Waschmittel-Dosierhilfe. Die andere Hälfte hatte mir der Briefträger zuvor reumütig an die Wohnungstür gebracht. <3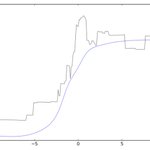 xtimv Visualization: The most criminally underused tool in machine learning

timvieira.github.io/blog/post/2014…

Plotting cross-sections is the single most useful trick that I've learned for understanding/debugging objective functions -- especially my half-baked ones that'll never get published! pic.twitter.com/XWst5xuTEA
labenzticker Klemm, das: Gegenstand in einer Position, aus der er nicht herauszubefördern ist und in die er nach den gängigen physikalischen Gesetzen auch nie hätte gelangen können. Literarisches Beispiel: Das Sofa in Douglas Adams' Der elektrische Mönch. labenz.texttheater.net/Klemm
zehavoc Seriously, Universal Dependencies+Lambda Calculus this morning, now UD+ DRS.. (like the Groningen bank but dependencies instead of CCG derivations) very cool talk so far by Matthew Gotham #SyntaxRules!