yesitshanna Alright my 4yo, forgetting the right name for it, just called an asteroid an extinction ball and this is so amazing I am never calling them asteroids again.
A: Man kann sich unseren Stadtteil schönreden, wenn man bedenkt, dass es Stadtteile gibt, die…
S-Bahn: Nächster Halt: Düsseldorf-Hellerhof.
A: Genau.
krautraub Der 5jhrge nennt die Zäpfchen Arschtabletten. Er hat eine poetische Ader.
EveForster Someone pointed out some misogynist claptrap in a philosophy textbook and immediately some douchebro comes back with "but whyyyyyy can't we discuss these ideas???"

My bro, we are discussing them right now. We are literally discussing how bad these ideas are right at this moment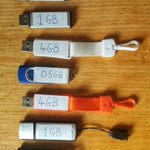 delliott This one amazing hack turns your conference USB stick collection into something you might use. pic.twitter.com/IANfniUZ6W
ojahnn Ich hänge seit fast einem Jahr in einem Kreislauf fest, bei dem Fliesenleger Rohre beschädigen und Installateure Fliesen beschädigen.
frachtschaden Jedem Studenten der Physik würde ich zwei Dinge raten:
1. Lerne die Grundzüge von Bifurkationstheorie dynamischer Systeme *vor* Phasenübergängen in der Statistischen Physik.
2. Lerne Renormierungsgruppentheorie anhand Statistischer Mechanik/Feldtheorie *vor* Quantenfeldtheorie.