"I ain't a Judas." - "Then what ai you?"
Ingeborch Nachbar: "... und was macht deine Frau so?"
Bekannter "Ja nichts."
N.: "Nichts?"
B.: "Nee. Hausfrau und Mutter halt. Und sie kümmert sich 1 bisschen um meine Eltern. Die wohnen ja jetzt bei uns in der Anliegerwohnung, weil die kommen alleine nicht mehr so klar."

*Axtholgeräusch*
remcoknooi An interesting core element of the "imagined community of practice"¹ of "serious sports fans" in the Netherlands is that you must watch sports on Flemish TV, because 'the Dutch commentators are incompetent'.
_____
¹ Anderson 1983 meets Wenger 1998.
Alle Zitate von den Wänden der aktuellen Josef-Albers-Ausstellung in der Villa Hügel, Essen.
lynneguist I tire of arguments that insist that instilling a love of literature be central to literacy ed. I mostly read for info. I enjoy it if it's written well. Why not make access to knowledge the central theme of literacy ed? 1/2
_kylebrownlee how are unicorns fake but giraffes are real like what's more believable a horse with a horn or a leopard-moose-camel with a 40 foot neck
fchollet Also, the general lack of scientific rigor in the field is more often than not coming from people with little engineering experience. If anything, knowing how to deal with system complexity makes your more rigorous (in the sense of the scientific method)
fchollet In the context of machine learning research, science and engineering are not distinct concepts. You don't do "science" by thinking very hard about platonic ML concepts and then publishing your thoughts. You do science by engineering systems that test small ideas, iteratively.
"Das Quadrat ist nur ein Geschirr, in dem ich meine Verzückung durch die Farbe anrichte."
"Jedes Kunstwerk basiert auf einem Nachdenken über das Material."
"Design ist nicht Dekoration; Design bedeutet nachvollziehbare Ordnung. [...] Es geht um Nachvollziehbarkeit. Es geht nicht um Schönheit. Wenn etwas nachvollziehbar ist, ist es auch schön." -- Josef Albers (?)
"Nothing inspires greater tolerance from the intolerant than an abundance of common and unifying beliefs, practices, rituals, institutions and processes." twitter.com/JonHaidt/statu…
@kathrinpassig @zeitonline "Historically, Scotland has been divided into 34 counties or shires. Although these no longer have any administrative function, they are still used to some extent in Scotland for cultural and geographical purposes."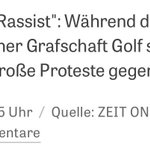 "In einer Grafschaft." Als könnte man in Schottland außerhalb einer Grafschaft sein. #Unterzeilenfail @zeitonline pic.twitter.com/mODxnxIrzG