"Hau rein!" - "Hau Reiner!"
dickebuerste53 Krass, es gibt 'ne redaktionell geführte ELMEX-Facebookseite, aber keine ARONAL-Seite! War mir nie klar, dass Elmex als "Hauptpasta" gilt.
fchollet Long term prediction: eventually all deep learning algorithms will operate not on float tensors, but on bits.
asayeed ... when he stops being hilarious I just hand him back to a parental unit. What are parental units *for*, after all? 2/2
ChrisBucholz If you don't ask me to "say hi for me" when I go to see a mutual friend, I WILL make something up. "They told you to go to hell," I'll say.
Schlechte Neuigkeiten für die Quantenphysik. :'(
Linkshänder/innen verwenden statt dem ☺️ das 🙃.
frachtschaden Na, auch unterwegs zur Häkelgruppe "Lappenglück" auf einem Streitwagen, der von vier wilden Stieren gezogen wird?
nsaphra No wonder I hated doctors at 14, I was too SULLEN and DARK for them. I wore too much black and was reluctant to move while in physical pain!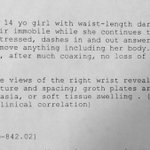 nsaphra Reviewing 10-year-old medical records. IANAD, but was this medically relevant, or just practice for a mystery novel? pic.twitter.com/f8ijkCK75G