"Haben Sie ein Psychopharmakon, welches mich in einen Machtrausch versetzt?" (@MartinPerscheid) Den Spruch muss ich mir merken.
gmskarka When the guy best known for dystopian cyberpunk calls it, the game is over. Pack it in. pic.twitter.com/QtdlvK5kaT
Evo2Me @texttheater Man hat in letzter Zeit oft den Eindruck, er diktierte seine Texte, die dann ohne zu lektorieren raus gehen.
Ich fand Thomas Fischer besser, als er noch ein Zeichenlimit hatte.
I wrote a program. It's a thing of beauty. Let's not ruin the moment by testing it.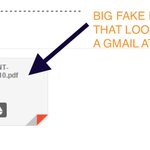 olizilla There is a particularly clever @google @gmail password phishing email doing the rounds... tell yer friends. pic.twitter.com/YUBw1qOBdp