peterglaser ' Jetzt ne Fernbedienung, mit der man in der ganzen Stadt auf arte umschalten kann. Dann aus dem Fenster horchen.
"Chuchichaschtli sounds like something musicians died of in the 19th century."
flexlibris before this week I had no idea about the "the court system is actually good and just" style of anarchism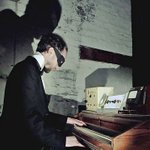 openculture New Order's "Blue Monday" Played with Obsolete 1930s Instruments goo.gl/l4kJbh pic.twitter.com/NrCGlFt0YY
Geekprinzessin Das Schöne an Eckwohnungen ist ja, dass ich aus dem Fenster lauern kann bis keine Mitbewohner mehr in der Küche sind.
frachtschaden Menschen, die "dafür fehlt dir die Lebenserfahrung" sagen, aber "dafür fehlt dir die Intelligenz" als Antwort nicht vertragen können.