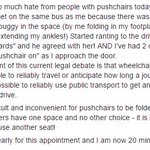 notwaving A friend posted this on FB today, shared with permission. What it's like using the bus as a #wheelchair user. pic.twitter.com/PLuZMFS17r
Verleser des Tages: "Gedoens" statt "Gedeons"
texttheater Und dann war da noch die Aussage, das Mindesthaltbarkeitsdatum der Milch liege "komfortabel" in der Vergangenheit.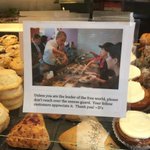 jbenno Unless you are the leader of the free world ... pic.twitter.com/c97BXJQhiM
Blick ins Gemüsefach: "Ich postuliere, dass die noch gut sind."
ojahnn Immer ein schöner Moment: Wenn wir sonntagmorgens gleichzeitig das Ende unserer Feeds erreichen und merken, dass wir Gesellschaft haben.
aljasngenietoo A few more #QueenInGreen pics to brighten the day... Happy 90th Queen Elizabeth! #GreenScreenQueen pic.twitter.com/YlzOxRUBHO