GretchenAMcC Today in weirdly good Google Docs spellcheck features: it just removed the red squiggly line when I typed [sic] after a word #amwriting
@Nachtvogel Haha, bin gerade auch darüber gestolpert! 😀
Schreyeisen "Im Meeting habe ich endlich mal Köpfe mit Nägeln gemacht."

"Du meinst Nägel mit Köpfen!?"

"Nein!"
fresheima Basically every thing Trump ever said should be more shocking to you than Golden Showers! Let's not make this into a big kink shaming show!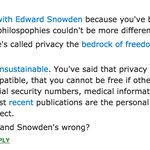 sarahjeong "[Your and Snowden's] motivations and philosophies couldn't be more different." 27,600 upvotes and gilded 12x pic.twitter.com/crMC8YKbSv
- Wie wir das genau machen, müssen wir noch ausbulldozern.
- Du meinst ausbaldowern.
- Nein.