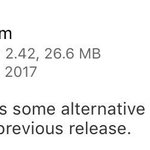 mattie Normally not a jokes-in-release-notes kinda person, but 👍👍👍 pic.twitter.com/3n19nvOTGp
"Es stieg dann einer ein, der guckte schon so kommunikativ."
@asayeed But it fits very well phonetically! Next spelling reform, let's make it <teimen>.
durst Betrat gerade die ARD-Kantine und, wow, was soll ich sagen: Hier isst das erste deutsche Fernsehen mit der Tagesschau.
JAMyerson "You're just now realizing this?" is my least favorite genre of leftist remark. YES! PEOPLE ARE JUST NOW REALIZING SHIT! ORGANIZE THEM!
ktzhu She got fired for *LITERALLY* doing her job: defending the Constitution. In Trump's America, that's now a fireable offense.