niggi Der ORF hat heute in seiner Mediathek zeitweise versehentlich die Vereidigung der neuen Bundesregierung mit den Dialogen der vorhergehenden Telenovela "Alisa – Folge deinem Herzen" untertitelt. Und es war wunderschön. Thread: twitter.com/FloPSchmidt/st…
[im Weltraum] Oben, unten – das sind doch bürgerliche Kategorien!
Pete_Brown I strongly prefer it when people don't send a "hi" ping in chat/teams/whatever and then wait for a response. Instead, I prefer they just chat me the question and I'll get to it when I can. The whole "hi"...wait... "hi back"... <someone is typing slowly FOREVER> drives me nuts.
beritmiriam Ich halte es für ein wirkliches Problem, dass diskursive Praktiken auf Twitter nicht oder nur kaum dokumentiert und analytisch betrachtet werden. Memes wie "Ich komme von..." im Kontext der Handke-Debatte verschwinden einfach, man kann sie auch nur schwierig suchen (Bilder!). pic.twitter.com/FqCAYWX76M
Chaosfux 1. ich komme gut bei Müttern an
2. ja auch bei deiner
3. deine Mutter und ich fahren zusammen in Urlaub
4. deine Mutter und ich haben dir was zu sagen
5. du sollst bitte ausziehen, ich wohne jetzt hier und du hilfst nie im Haushalt twitter.com/thegarygraham/…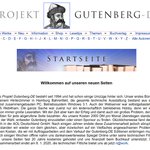 umblaetterer Das Projekt Gutenberg-DE wird nach nun fast 20 Jahren nicht mehr auf @SPIEGELONLINE gehostet und ist heute hierhin umgezogen: projekt-gutenberg.org (auch = weniger Bloat in Seitenquellcode & Layout) pic.twitter.com/GAKABqgFJ9