jasonbaldridge Wishing everyone a happy, healthy and productive year! Don't worry about research trends and the current publication frenzy—dig into hidden corners, explore intellectual traditions others are ignoring, and learn new things, no matter your age and stage. And, be kind to yourself!
lenakmeth For the new year (and decade) I wish to fall in love again with my work and research. My thesis and I need some serious couples therapy, but we will make this work (mainly for the kids).
Auf welchem Kraftwerk-Album ist die beste Version von "Die Roboter"?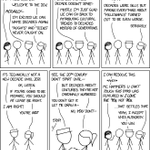 xkcdComic I Love the 20s xkcd.com/2249/ m.xkcd.com/2249/ pic.twitter.com/NaHh3ZrIsT
LadyMariaNapier Kath. Priester: Ich bin gekommen um dich von dem Dämon zu befreien, der Besitz von dir ergriffen hat, mein Kind.

Ich: Oh, das muss ein Missverständnis sein, ich habe sie nicht angerufen, tut mir leid.

Dämon in meinem Körper:
ICH HABE SIE GERUFEN GEHEN SIE BITTE NICHT WEG HILFE
Getränke von Fremden annehmen, Leben am Limit usw.
Eine Hebamme hatte kurz vor dem Jahreswechsel einen Einsatz und suchte sich dann, mit einer Flasche Traubensaft und vier Plastikbechern, draußen jemand Willkürliches zum Anstoßen. Das waren dann wir. <3
kathrinpassig Herr Wehrli hat das Bällebad gar nicht wirklich aufgeräumt, nur an der Oberfläche! Man sieht es, wenn die Kinder alles wieder durcheinanderbringen. Wahrscheinlich ist er im Privatleben Messie, kann da mal ein Kamerateam nachsehen? pic.twitter.com/bxneQ8fJ39