Bitte nicht mehr Mentalität sagen, sondern Draufseiweise.
Thom_Wolf Missed this great article on the Clever Hans effect in NLP

Many SOTA results we get with Bert-like models are due to these models "breaking" our datasets –in a bad sense– by exploiting their weaknesses

@benbenhh's piece has nice overview & advice

Also follow @annargrs on this twitter.com/gradientpub/st…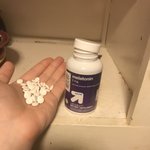 levarburzum bout to go to hypersleep see u guys in march pic.twitter.com/vZ9IwKza8M
Autopflege, aber als regionaler Brauch, bei dem jährlich in der Au ein Topf niedergelegt wird
Abebab The more I think about this, the more it is clear to me that the question "why we are trying to make predictions in the first place" is much more important than "how we can me our predictions as accurate as possible" twitter.com/WiringTheBrain…
FelixHill84 First, think about whether this sentence makes sense to or not?

"The haystack was important because the cloth ripped"

Most people say it seems grammatical but is incoherent. Perhaps it was generated by a (badly-tuned) neural language model! (1/N)
KentenRoth I consider page 2 of google results the dark web.
the_maki Churchill! Kreuzworträtsel! pic.twitter.com/PrElyXveGr
the_maki Wenn Netflix mit "The Crown" durch ist, kannes dann bitte diese unfassbare tolle und gerade von mir entdeckte Wikipedia-Biografie von Tom Driberg (1905-76) verfilmen? Beethoven, Satanisten, Sex mit Schotten, Kommunismus UND Religiösität, Spionage, Londoner Unterwelt! pic.twitter.com/qRCmrWhNoa
labenzticker Vorholz, das: Im Unterschied zur Titelei eines Buches wird als Vorholz derjenige gleich lange Teil bezeichnet, den man bei einer schlecht gemachten PDF-Version des Buches nach manueller Eingabe einer Seitenzahl nach unten scrollen muss, um auf die eigent… labenz.neutsch.org/Vorholz