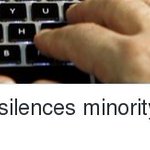 Snowden This is a landmark. Data shows surveillance is harming democracy. #IPBill washingtonpost.com/news/the-switc… pic.twitter.com/lprr82AuA9
korrekturen Neuen Helvetismus gelernt: das Leidzirkular (= postalische Todesanzeige).
kykel Meine neuen Socken haben Querbelüftungskanäle.
"Ich sach zu Ihrem Scheff, Jockel, sarrich..."
astefanowitsch +++ "Au" verstanden: Wissenschaftler entschlüsseln eigentliche Botschaft der Kreuzigungsgeschichte. +++ #newstweet
Herr_Rau Weiß wer eine Liste von Romanen, die als Untertitel "A Novel" haben? Würde gerne Vermutungen nachgehen.
plomlompom Ich hab's: Ich brauche langfristig zwei Tage die Woche frei von jeden Verpflichtungen, sonst explodiert mein Kopf.
labenzticker Photo from "Orphan Patterns", installation by Pierre Huyghe, Sprengel Museum Hannover
labenzticker Sutton and Cheam, defined by Adams and Lloyd as the two types of visible dirt: dark on light, light on dark. pic.twitter.com/Us5YVrSFuL
ojahnn Hab heute gelernt, wieviel schwieriger Scrabble ohne Kompositafreiheit ist. Arme Nichtdeutsche.