peterbreuer Die UEFA führt den fünften, sechsten und siebten europäischen Wettbewerb ein und ich befürchte, als unsportlicher 53-jähriger Raucher als Schiedsrichter für die Partie VfR Wipperfürth gegen VŠEMVS Karlovka zwangsrekrutiert zu werden.
a fall down memory staircase
HansvonKaese Performanceidee:
Renter*innen steheb auf einem vielbefahrenen Bürger*steig und sagen jede*m "Dies ist kein Fahrradweg".
Als Neuinterpretation des Werkes von René Magritte könnte das echt gut werden.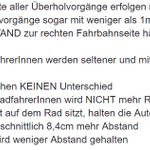 CarolynFriesl Der Tagesspiegel hat 100 RadfahrerInnen mit Sensoren ausgestattet und zwei Monate in Berlin aufzeichnen lassen, wie eng sie von AutofahrerInnen überholt werden. #fahrradalltag

interaktiv.tagesspiegel.de/radmesser/kapi… pic.twitter.com/zmWVzARc5Z
dalcashdvinsky "Dictatorships are, after all, fairly similar, all over the world, we found out. There seems to be a standard set of rules how to run a tyranny, maybe a Wiki or a textbook or a university course that every tyrant has to take." medium.com/@dalcashdvinsk…
nminkmar Die wahre Verachtung liegt darin, den sog Unterschichten ökologische Ignoranz, Habgier und Intoleranz gg Minderheiten als konstitutive Identitätsmerkmale zuzuschreiben. Soziale, linke Politik besteht nicht darin, den Preis für Diesel niedrig zu halten.
JGoschler @spinfocl Ja, sie umgehen dieses Problem elegant, indem sie sie nicht lesen. (Ergebnis einer Befragung von Expertinnen*)

*unsere Kinder
skglas Wer nicht gegen die GG- Änderung war, sollte es jetzt sein. Umverteilung der Steuergelder in Papier-Bürokratie, nicht meine Vorstellung von "Fortschritt". Accountability! twitter.com/schnellenbachj…
nicole_schoen "Jungen müssen von klein auf lernen, mit Frustration umzugehen. Und wir müssen die Botschaft vermitteln: Es gibt kein Recht auf Sex mit irgendwem." @denkwerkstatt über "Incels" und was diese frauenverachtende Ideologie mit Beziehungsgewalt zu tun hat.
derstandard.at/2000092615853/…
"Es ist nicht Härte, die Macrons Umfeld eint, sondern der unerschütterliche Glaube an sich selbst.… Wer sich schreiend eine gelbe Warnweste anzieht, glaubt nicht mehr daran, dass man nur stark sein muss, damit das Leben ungefähr in die Richtung verläuft, die man sich vorstellt." twitter.com/zeitonline/sta…