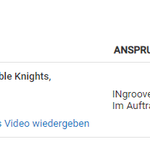 HerrNewstime Das passiert übrigens, wenn man Filter einsetzt:

Man berichtet LIVE von einer Demo, wo Musik auf einem Demo-Truck gespielt wird, die Musik ist ein unwesentliches Beiwerk, aber das erkennt der Filter nicht. Es werden dir direkt alle Rechte an deiner Berichterstattung entzogen. pic.twitter.com/62WHfoLJC4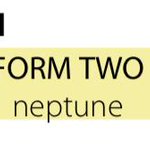 jeremyburge Shoutout to the new (non-emoji) Unicode characters which receive zero hot takes from the internet pic.twitter.com/6K0x2PkDfQ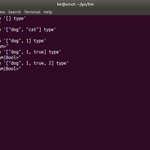 Type system demo II: array types pic.twitter.com/DHEj9kcbhY
ennopark 14/x Nazis und Neufaschisten und deren Gewalt gegen Flüchtlinge, Homosexuelle oder Obdachlose usw. sind ihnen weitgehend egal, weil sie sich von ihnen nicht bedroht fühlen dafür aber von ihren Opfern.
ennopark 3/x Konservative wollen in erster Linie nur eines bewahren: Gesellschaftliche Hierarchien und ihre eigene (meist gehobene) Stellung darin. Alles was diese Hierarchien (oder sie stützende Geschäftsmodelle) gefährdet, wird bekämpft. Alles andere begrüßt.
cdutilhnovaes "This means that to create lasting change, our work as advocates is twofold: to be more present and compassionate in our communities, and to hold technology companies accountable." twitter.com/guardian/statu…
SneakyTigris @woelken @Gronkh @EPP @CDU_CSU_EP Habe das Gefühl die Politiker denken es würden sich nur Jugendliche mit dem Thema beschäftigen. Dabei vergessen sie die 20-45 Jährigen die im Netz unterwegs sind, wegen Arbeit/Familie nicht auf Demos können & sich nicht an Tastatur Diskussionen beteiligen. Die gehen aber wählen.
"In einem Monat hat das neue Semester schon begonnen! Hurra! Das fiel mir gestern auf, als ich unter der Dusche die Einführung Phonetik/Phonologie hielt und merkte: Ich brauche wieder ein Publikum." #OH
spinfocl Hintergrund: Satireaccount wird zu Aktivistenaccount, um mit 12k Follower zu starten. Inhaltlich dürfte #scienceforfuture mit Sicherheit unterstützenswert sein, aber was ist denn das bitte für eine falsche und völlig uneinsichtige Art? twitter.com/spinfocl/statu…
Bruder: "Viel Erfolg mit dem Shared Task! Nicht im Stress overfitten!" <3
GretchenAMcC Oh you want the advanced version, do you?

I also endorse learning the spelling/transcription systems for languages you often encounter names from!

(Arabic and Mandarin are particularly useful here, though I once got to really impress a Turkish speaker I'd just met!)
GretchenAMcC Psst, Business Students, yes hello can I interest you in a phonetics course, I promise it will be very relevant to your future ~networking