Cluedo-DVD: FERNER BENÖTIGT JEDER SPIELER EIN GEEIGNETES SCHREIBGERÄT.
B.: Ich möchte eine Feder. Von einem Dodo.
hayliechriss sorry if this is too kinky but can you hold my hand and tell me i mean a lot to you
ralfheimann Vorschlag zur Güte in der Sache #Kühnert: BMW darf im Familienbesitz bleiben, muss aber im Gegenzug das Verkehrsministerium abgeben.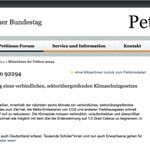 petitionscount1 #servicetweet: Countdown für die #Petition zum #Klimaschutzgesetz. 50000 Unterschriften braucht es, um den #Petitionsausschuss des #Bundestag|s zu beschäftigen. Stand jetzt, 4.5.19, 13:37: 46000 Unterschriften✍️
Weiter so!
@Fridays4future #FridaysForFuture
epetitionen.bundestag.de/petitionen/_20… pic.twitter.com/xvJsajKN7i
linguist - wug
computational linguist - cywug
zirkuspony fatale kombo: "aus der nähe von" kommen und "einen auf [...]" machen
- Was kostet denn ein einfacher Farblaserdrucker?
- Nun ja, es gibt ihn zum ersten Kartuschensatz gratis dazu.
umrath Die #SPD ist tatsächlich wieder glaubwürdig: pic.twitter.com/1QO7abCSYp
EckDoktor zwei seiten zu jeder medaille oder so ich hab ein gedicht gemaked pic.twitter.com/YmmwCbjAM3
mpoessel If you're angry about the recent deletion of articles by @jesswade from #Wikipedia, there is a way to help. Of course, that way is also open to you if you are not angry about those deletions: Help to edit Wikipedia. 1/n