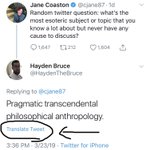 HaydenTheBruce @cjane87 When the internet doesn't even know what you're saying! pic.twitter.com/1woXlgsVBs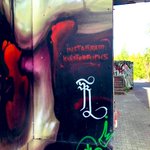 j_kloiber 2019: Graffiti artists signing their works with their Instagram accounts. pic.twitter.com/yBYUJYQtq6
spacy_io 🕵️‍♂️ Holmes: Information extraction with spaCy from English and German texts, based on predicate logic. Supports a range of use cases from conversational applications to document classification and comes with very extensive docs!

github.com/msg-systems/ho… pic.twitter.com/DoTGoF3VX1
kykel Logisch, weil ja Faszien betroffen sind.
kykel Ich habe mir einen Muskel gezerrt und ehrlich gesagt fühlt sich das echt faszinierend an.
"Sprichst du deine Frage noch zu Ende, oder soll ich raten, was du willst?"
Anstrengend: Wenn Leute dich antwortheischend angucken, aber ihre Frage nicht zu Ende sprechen.
@Vilinthril Jepp, computerbasierte Festkörpertheorie und Kameraobjektive.
stevenkaas Why idly theorize when you can JUST CHECK and find out the ACTUAL ANSWER to a superficially similar-sounding question SCIENTIFICALLY?
DeletedWiki Category: Pages with at least one category including this one
sorenmacbeth neural network visualization has gone too far pic.twitter.com/357nKCkPh2
Mutter stellt ihren Geburtstagsgäste meine Geschwister und mich vor: "Die drei sind spezialisiert auf das Zerlegen von Sprache, Materie und Licht."
EnglishGibson "If you read nothing else today…"

Like I'm supposed to read ÜBERHAUPT ETWAS?!!
LindsayPB Capitalism eating itself, part ∞ pic.twitter.com/jd6SvRL1nL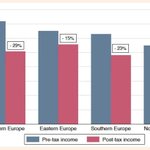 adam_tooze If Nordic societies are more equal it is not because their welfare states redistribute more, but because their pretax income distributions are more equal. Excellent @MESandbu write up of research by @WIL_inequality
wid.world/europe2019
ft.com/content/f5acd7… pic.twitter.com/AVscnBYPhC