joshraclaw Got to hear my first intransitive MAKE construction, happy Christmas:

"The other coffee is making right now" ☕️
harryliebs Wir kommen ans Ende des lithurgischen Twitterjahres. Das Fest der Familienbeschimpfung ist schon fast vorbei. Die Böllerschimpfgesänge werden es endgültig abschließen. Bald ist wieder Tanzverbotsstreit.
byzantinologue @ala_Camillae @kataplexis I'm so with you guys. The 'magic' of Greek was over by 18... I'm not looking for consolatio philosophiae in Classics. It's more about problematizing (in my case region's shape & self-image); what I understand as poetry isn't beautiful things but difficulties of understanding.
Veitstanz Most of the issues in vampire fiction come up bc the love interest is a teenager or in their early twenties and not a practical 48 year old

(spoilers, it DOES help Vampire)
[OCs, Gravedigger and Vampire] pic.twitter.com/OVno8qRwA8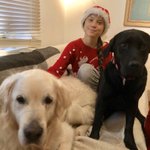 GretaThunberg Happy holidays! Remember to take care of yourselves, each other and the beautiful planet we live on.
#happyholidays #rescuedogs pic.twitter.com/zbU08OSuCh
Wort des Tages: Mampfluencer
papagaeio Merry Octomas again but in colour. Right, that's me done for the day! pic.twitter.com/Lft2STKYLV
HapaxLegoman Is... that good? pic.twitter.com/FnfQDum5vq