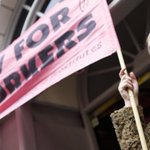 amnesty Our proposed policy on protecting #HumanRights of sex workers - here's what you need to know: amn.st/6013BGDFL pic.twitter.com/mRVWLD7AyA
botathon Darling, did you remember to mail the invites for our disarmathon? People have to prepare!
SoVeryBritish "Sorry, it's a bit tricky, there's a knack to it" - Translation: Just turn the key, you idiot
@hllizi @spinfocl Ich kann mich nicht erinnern, in meinem ganzen Leben jemals einen schlimmen Fahrradfahrer erlebt zu haben.
People seriously think the future existence of hypothetical people is a humanitarian concern? How dumb is that? twitter.com/_K_E_L_S_E_Y/s…
Läuseleber an (ja, an!) einem Bett aus Labskaus
christi3k It's amazing what you can do when you're all out of fucks to give.