My eternal quest for a tolerable Android IMAP client continues. Currently sucking least: Outlook.
sproodl Postapocalyptic jewellry workshop with @cy_pp starts in a few minutes - meet her at Yalow Yard! #cccamp15
emtiu Ob die "AdBlocker verursachen Verluste"-Spinner auch ausrechnen, was es kostet, TV-Zuschauer während der Werbeblöcke *nicht* anzuketten?
Biarka_Biak "Ihr Passwort muss Partikel vom Heiligen Gral, dem Stein der Weisen, Antarktiseis, Mandragora und Amöbenurin enthalten."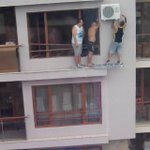 ThePracticalDev Fixing a bug in production pic.twitter.com/saD82hLacz
pmddomingos Geoff Hinton, arriving home from work: "I did it! I've figured out how the brain works!" His daughter: "Oh Dad, not again!" (True story.)
@hllizi It's about the series that Insurgent is a part of.
TouchWiz: ein Alptraum in Türkis.
The series is made unique by how it keeps playing with how character traits align and don't align with political factions.#watchingdivergent
Passing the Amity test by resisting fighting the one you hate most: people's image of you. Gotta say that's cool. #watchinginsurgent